Share your love of waterfalls with us on Instagram by tagging #waterfallsoftasmania
Echo Falls is the unofficial name given to a waterfall located on the lower reaches of Constable Creek near St. Helens, Tasmania due to being located near the base of Mt. Echo. The waterfall is also surrounded by steep hills on either side of the creek adding to the appropriateness of the name 'Echo' for it. Echo Falls has an approximate height of 10 metres cascading over a granite rock ledges into a rocky pool below.


About the Hike
To reach Echo Falls, you must drive from St. Helens along Argonaut Rd and then turn left onto Trafalgar Track. There is no track to Echo Falls and can be accessed for many different sections along Trafalgar Track, including from near Ferntree Falls to the North-West, or from Ironbark Falls from the south. Experience in navigating either by map or with a GPS is necessary to correctly reach Echo Falls. Which ever route you choose the forested area is not dense making it easy to walk. To add character to the hike consider climbing to the peak of Mt. Echo and walking along a saddle towards Echo Falls before descending steeply to the Constable Creek.
Local History
A waterfall known as Leda Falls is believed to have existed in the St. Helens region as depicted on number of historical records. Echo Falls has been called Leda Falls by some local residents. However Leda Falls looks vastly different from Echo Falls.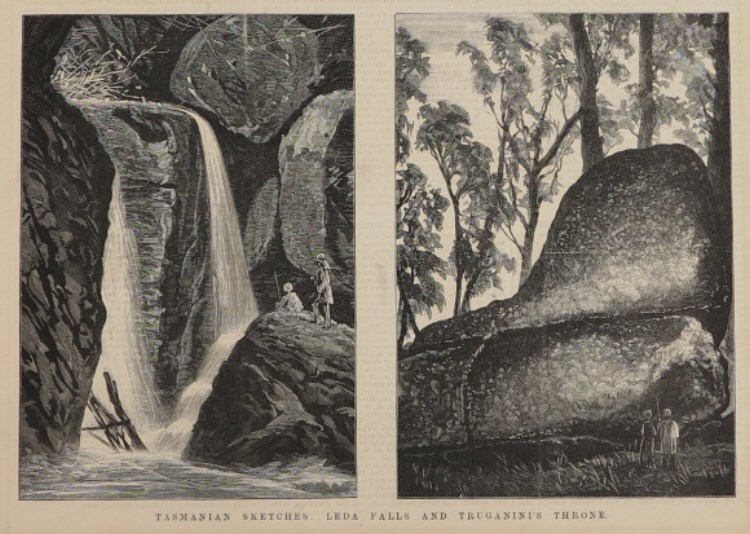 Title: Tasmanian Sketches: Leda Falls
and Truganini's Throne
Courtesy of Full Circle - Antique Prints and Maps
What is somewhat a mystery is what actually happened to Leda Falls. Some hint might be the tin mining history around the Mt. Echo region. A possible theory is old mining operations required diverted water from rivers and creeks and possibly the mining operations caused Leda Falls to disappear entirely. Another theory is mining operations physically mined the rock where the waterfall once flowed causing it to disappear.
Image Gallery for Echo Falls
Click on an image to view in fullscreen